Speakers Corner is a wonderful idea. On a corner of Hyde Park, anyone can set up and begin talking to anyone who wants to listen. It has been going for two hundred years or so. It is free speech at it's best. I was looking forward to hearing the English citizen intellectual tradition continued. Only — it is terrible. Just like the nutjobs who infest every college campus, it's just where the crazies happen to end up. There was none of the hoped-for wit or debating. Our day was dominated by a truly crazy Korean religious nut there. She had a bull horn. Why, why… that's cheating! We walked away quickly. Then the boys accidentally broke a big limb off a tree in the park — we ran like hell. Americans, right?
Hampton Palace boasts the oldest existing hedge maze. The boys solved it in under two minutes. We should have gone to a big one like the Longleat Hedge Maze.
This incredible sweet shop:

Keep Calm and Carry On: This slogan is everywhere. Everywhere. Just about variant you can think of was used. Keep this and do that. On posters, shirts, buildings, buses, it is non-stop. We would wage 20 pence bets on whether a particular instance was in production ("OK. Keep calm and call Batman?"). Almost all were. Interestingly, the slogan was never used during the war. Posters were developed and printed but never used.
My father remembers seeing wartime propaganda in Boston. Citizens were urged to reduce their usage of everything so the war machine could use those resources. This wartime poster is also good dietary advice. Michael Pollen would approve.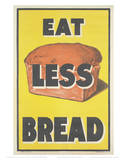 Fascinating fact we learned at the Churchill War Rooms: Carrots are not good for your eyes. This comes from a World War II disinformation campaign. British radar was able to spot German planes, and they needed a cover story to explain how their defenses had improved so dramatically. Cool!